We are a sucessfull home bussines with more than 25 years of expirience in veneer inustry. We offer high quality gross or jointed veneer, with more than 40 types of wood always in stock. We are flexible and we can adapt to you wishes. 
Glued wood plates of oak, larch and wallnut. Great material for making stairs, tables, kitchen counters or other furniture. Plates are already dried and the surface is sanded.
Limited quantity of cutted european wallnut. Soon we will also have in stock local larch, which is fameous for its natural colour and narrow lettuce growth.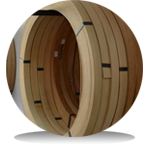 For all the information we are always available to you.